Review: BIMM Live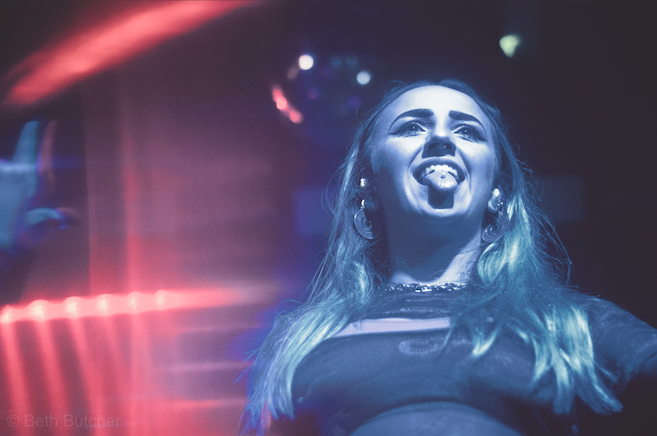 By Tom Bradley | February 13, 2020
We're packed into The Fleece in Bristol, a small venue with a legendary past. Having hosted the likes of Amy Winehouse, Queens Of The Stone Age, IDLES and Oasis, this grungy piece of Bristolian gig history is full to the rafters tonight for the Bristol BIMM live showcase in order to highlight a number of acts ready to break out of Bristol. The blacked-out room is filled to the brim with BIMM students looking for their well-deserved, opportunity to shine.
BELISHAS
BELISHAS give off a serious energy about themselves on stage. On arrival, the Bristol-based quintet instils a sense of youth and raucousness. Their sound brings both a sense of nostalgia and freshness in unison. They waltz onto the stage at BIMM Live armoured with fenders and Red Stripes as lead singer Euan declares, "This track is for every money-grabbing scumbag in Canary Wharf," as the band begin their post-punk creeper Scot-free. He commands the stage with pumping charisma, under a glaze of magenta lighting, whilst their sound is driving and drenched in Blur-Esque melodies that allow the audience to fully gauge the creative songwriting and structure BELISHAS have to offer.
Lyrics reference social disparity, untrustworthy bankers and the over-indulgences of the rich, making their political colours as defined as their music. Their drummer, also named Ewan, has undeniably been programmed by Keith Moon himself. He pushes a beat that rings throughout The Fleece and encourages the crowd to sway along as he screams 'Money, money, makes me a naughty boy..'.
As with their other songs Foreign Policy & Chlorine Maureen, BELISHAS strike brash and raw chords that surely will resonate with fans of Fontaines D.C. and Shame. In every sense, this band feels together and as one on stage.
Rockabily Reapers
The four-piece rockabilly Reapersprovided a sumptuous dose of retrograde classic American guitar rock at theBIMM Showcase,.The song choice from all BIMM songwriters was the woozy, bluesy Grim Reaper with its neat bridge-chorus structure, which also proved insatiably catchy. This, in turn, provided the bedrock for lead vocalist and guitarist Rosie Whitten to let loose with some excellent guitar work.
As part of the showcase, this was an act that stood out due in no part to the difference in sound from other acts with Anna Partridge particularly strong on the banjo. As with many performances at the showcase, it would've been interesting to see them get stuck into a second song in order to see where else their sound might have progressed this was a strong, competent and confident performance that drew on blues, Americana and soul in an accomplished mix. It will be interesting to see this act develop over their time working together as the potential here is obvious.
Carys Page
Here to make the future a little sweeter and cutting through the indie, rock and pop-punk, is folk singer/songwriter, Carys Page with her debut EP Honey. The song is a beautiful whisper, which stops the rowdy crowd silent. The vocals are harmoniously accurate, every alto note transcends, then cocoons into a sticky grit that almost begs for fans of, Alaska Alaska and phoebe Bridges to get onboard. Like these powerful female-fronted acts, Carys Page commands the stage with her vocal range. Although her backing band do their jobs and admittedly fall into the dull-lighted stage, the guitar is far from lost.
Despite the obvious influences, the dainty arrangement leaves a unique presence, proving to the wooed crowd cares is something special. Armed with such a tranquil number, the silence of the crowd spoke volumes. So, let's save the bees this winter because we want more honey in 2020!
Try Me
The act that emerges as one of the most unique are the disco- punk duo Try Me, with their song  Do You Know What I Mean.
The pair's performance takes centre stage as one of the most engaging acts of the night as their upbeat, captivating track fills The Fleece and manages to get the whole audience up and moving.
Many find the performance refreshing, and although the duo are operating in a slightly niche genre, it works perfectly amongst the swathe of guitar rock sounds present in many other performances. Their immense stage presence is undeniable as they jump around, bellowing their rebellious anthem to the enthralled audience. Whilst the heavy tone of their music takes some by surprise, it is joyful and empowering.
Try Me are surely going to grow quickly in Bristol's alternative music scene as their sound offers an exciting twist in the aforementioned genres. Keep a close eye on this groovy duo as they offer a taste of their playful punk music to our vibrant city in 2020.
Proxy Youth
When Alex Turner said "I just wanted to be one of the Strokes," Proxy Youth turned to each other and nodded in agreement, adopting this concept.
The leather-jacketed, four-piece show clear influences from post-punk revival bands in both sound and image. Sound-wise, however, they have created a heavier, more rock-driven palette than that of The Strokes. The power chord verses and screeching guitar solos give their sound an arena atmosphere. Coupled with the sing-along choruses from frontman Jase Gutteridge, the band are showcasing that they clearly have big plans for their brand of 21st-century noise.
Although the frontman has a swagger to him you might compare to a younger Julian Casablancas, the rest of the band leave him to do all the movement. Yet what they might lose in stage presence, they make up for in a hefty sound that fills the room.
When only given one song to work with, making a big enough impact for some crowd participation is always going to be tough, however, when Guttridge urges the crowd to sing along, even he seemed surprised by the raucous reaction.
Kite Theif
It would be extremely easy, yet also extremely lazy, to draw comparisons with Paramore when talking about Kite Thief. Yes, they are both female-fronted rock bands with commanding women at the helm, but this is where the comparisons end.
Musically, Kite Thief are the heaviest band of the night, their metal riffs and hammering drums shake The Fleece. However, the most metal thing about the band is their image or lack thereof. They look nothing like a metal band and in doing so raise a big middle finger to the metal purists. Lead singer, Elin Allan, is dressed like she should be skanking rather than fronting a metal band, a major reason why their image and performance works so well.
Allan gives one of the best performances of the night, her vocal power, presence and energy could have easily filled the stage alone, yet when coupled with the power from drummer Zac Lever, tied together with unapologetic chugging from guitarist Maxx Lee Harris, Josh Bailey and bassist Henry Stone, they collectively execute an awe-inspiring show. KiteThief, more than most, left me itching for more.
Fairy Boy
Last but certainly not least to perform on the night are indie band FAIRY BOY, who end the showcase with a bang.
The various members of FAIRY BOY previously performed in separate acts during the night, but team up to form their energetic indie-rock ensemble for the final performance. This is a collaboration that pays off immediately as the audience sings along to their honest, ironic lyrics throughout.
Lead singer Freddie Palmer and backing vocalists Jodie Mellor and George Clement engage the audience perfectly in their cheeky, youthful song. The band's confidence in their performance certainly shines through, as Freddie interacts admirably with the crowd and gives off the necessary charisma to suggest star quality. Although the showcase has presented us with a large number of artists, FAIRY BOY unquestionably steal the show amongst the indie band sub-competition with a playful, light-hearted performance that won everybody in the Fleece.